May 24, 2017
Dancing With Lions and Haute Hats!
"The snow festival Part 1" is here.
After we had warmed up a bit, we went outside the Kamakura to have our photos taken wearing the traditional raincoats called "Mino." They're made by knitting the dried stems of the rice plant!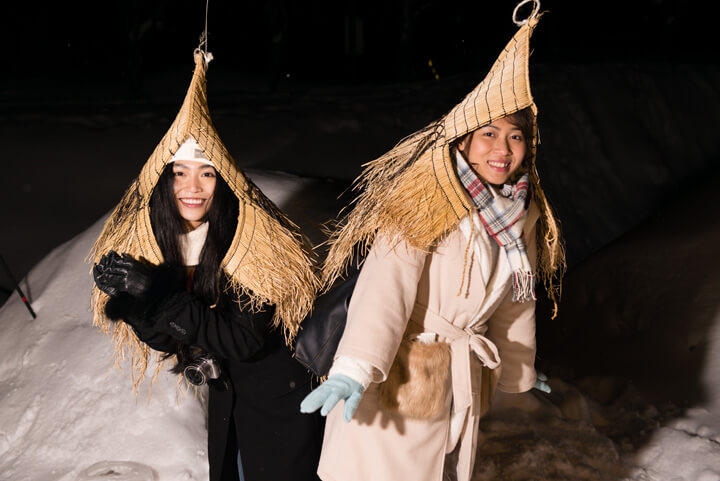 Lion dance (Shishimai)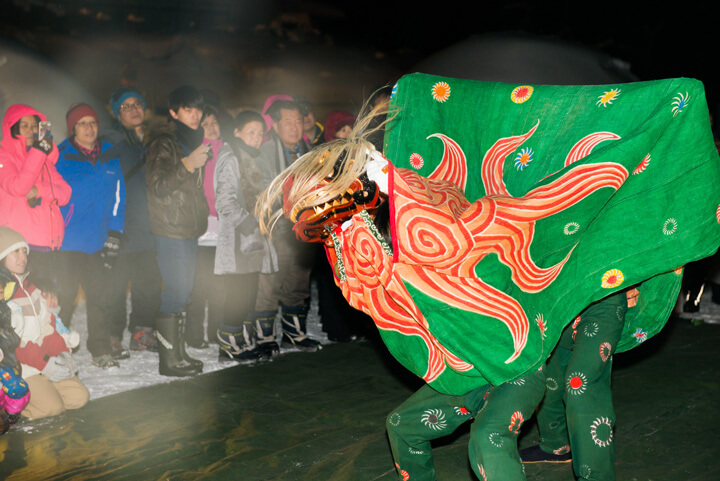 After a while of taking pictures and exploring, the main event began. A traditional dance called Shishimai which is also known as the "lion dance." Traditional Japanese festival music started to play, and we saw people playing drums and flutes gathering under the lights.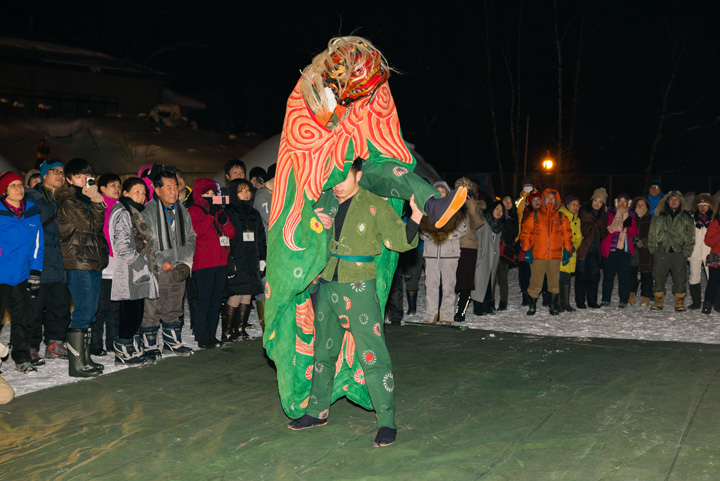 Then two dancers, representing a male and a female lion couple, began to dance for us. The dance was beautiful and very acrobatic, with lots of energy and jumping around to help tell the story to the viewers. Be sure not to miss it!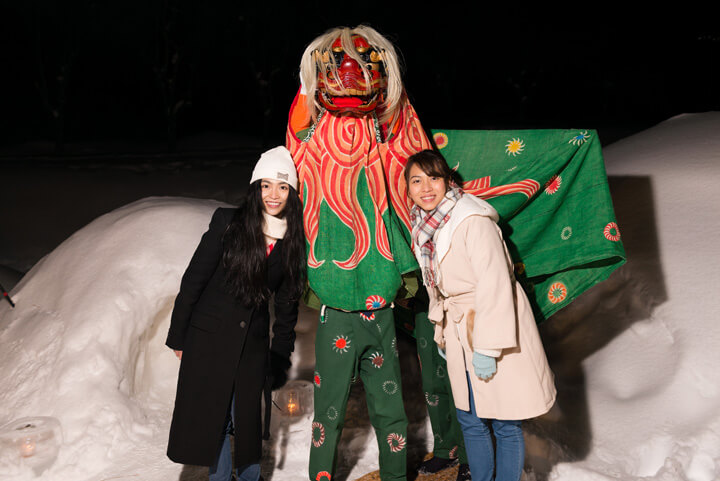 I thought the costumes were gorgeous—and scary! You could see that a lot of detail had gone into making those beautiful lion's masks. I should note, that you can also line up and have your picture taken with the lion dancers, but it's best saved for the brave ones in your family 😉
I noticed a small stall nearby selling dumplings, Yakitori (which is like a Japanese shish kabob) and hot drinks. So there were plenty of delicious snacks to keep you feeling warm while you watch the dancers.
Inside of a Kamakura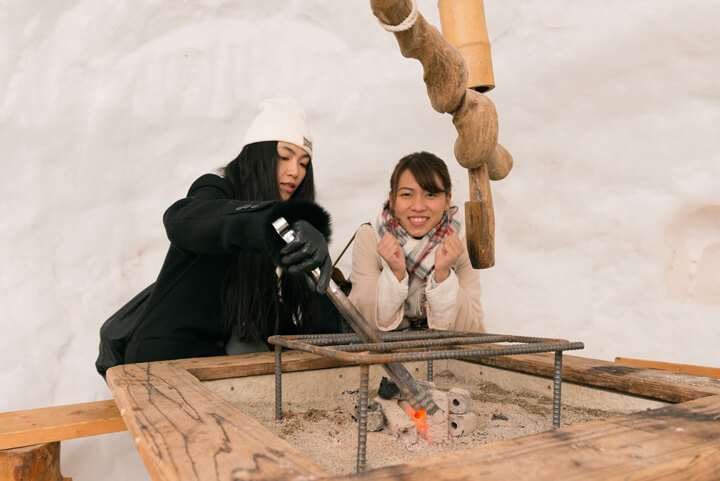 We decided the next Kamakura we would visit was the one with a fireplace inside, a good choice, since we had been outside watching the dancing… but not dancing ourselves to stay warm!
The little fireplace was enclosed and burned brightly with charcoals glowing inside. I couldn't believe how warm it could be in a house made of ice! The Kamakura helps to cut the wind from hitting you, and with the fire burning brightly, you would never know you were surrounded by ice and snow.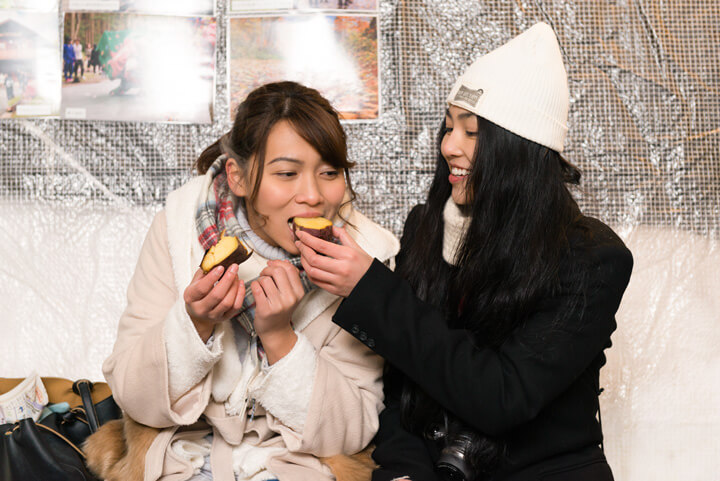 We warmed our hands and chatted about the Lion Dance before baking our own sweet potatoes, we were told by one of the locals that sweet potatoes baked in iron pots over charcoal are the sweetest and fluffiest sweet potatoes that you can make, and we couldn't disagree with him.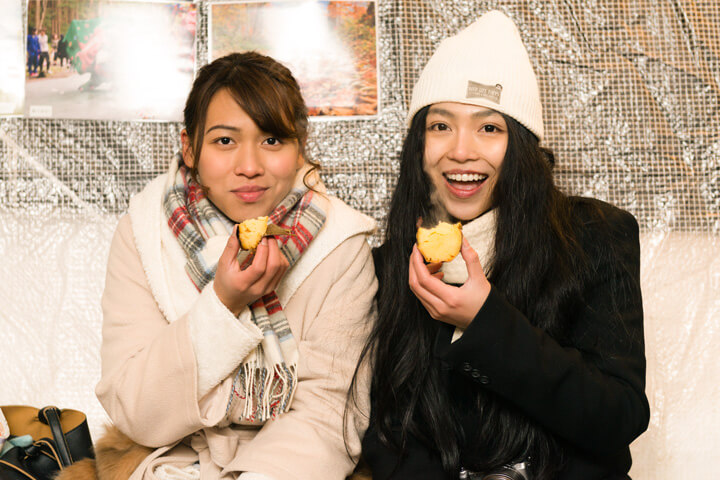 Japanese sweet potatoes are unlike any other kind in the world. They are much more yellow in color than most I've tried, also very sweet and a bit flakey. If you visit Japan in the winter, you must try one!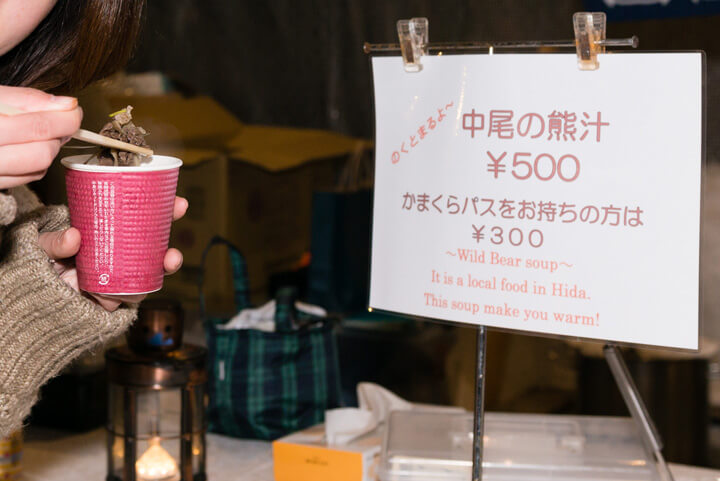 My sister (she's the brave one when it comes to trying new food) had a steaming hot bowl of a local delicacy-bear soup. A broth based soup with meat and winter vegetables. To be completely honest, I chickened out and didn't try it, but my sister said it was delicious and I overheard many visitors talking about how tasty it was. Maybe next time for me, it gives me something to look forward to on my next journey here.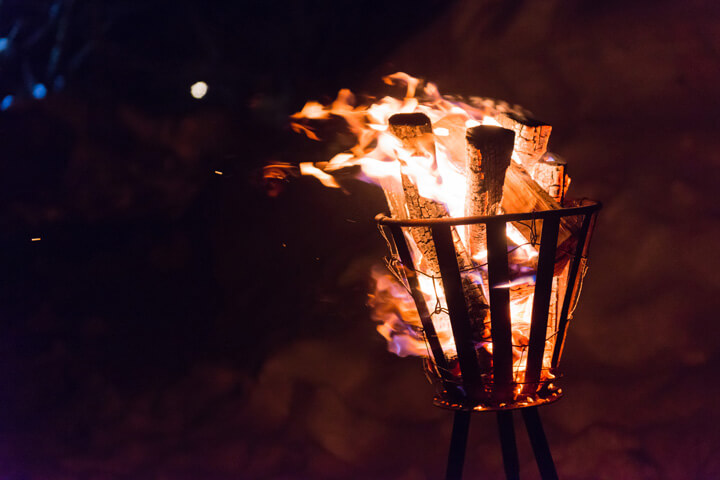 Tonight was a night to get in touch with Japanese traditional arts and culture. Of course, the temperature is low since it's an outdoor event, but if you dress warmly you shouldn't be too cold. The good times you'll share with your friends and family are more than enough to keep you warm at heart!
Written by

Maki Shima

Model/Writer

Written by

Miki Shima

Model

Photo by

Shinya Sameshima

International Award winning Photographer