Mar. 10, 2016
Interview with the hosts | Trip to Sanriku, stay at a fisherman's
This host interview is based on the travel blog of Igarashi.
Please also take a look at the experience report "Trip to Sanriku, stay at a fisherman's"!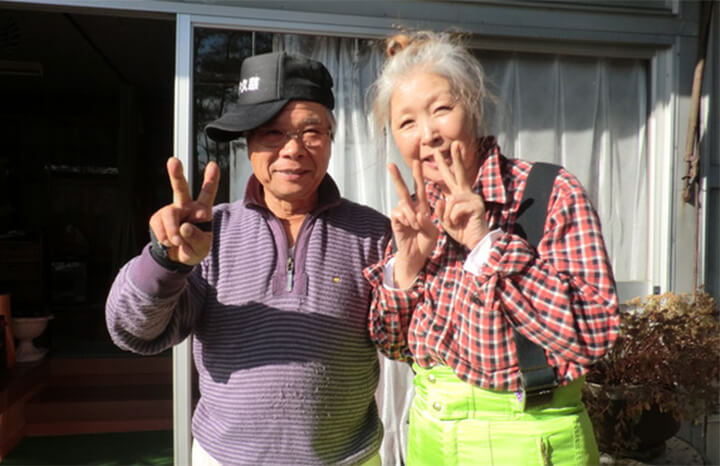 Host introduction
Tadanobu Sugawara (left), Ryoko Sugawara (right)
Married fisher couple in Kuji city. Tadanobu quit working at a company around 20 years ago and afterwards focused on make a living through the fishing business. After joining STAY JAPAN(ex-Tomarina) a long time ago, a lot of guests came to visit, also families and people from abroad. Since there is always freshly caught fish in the house, the couple invites you to try delicious fish cuisine at their home.
We started this thinking it would be nice to interact with people from the city
── What was the reason you starting your private lodging business?
Tadanobu: We always used to offer educational programs for students at local elementary and middle schools. But doing that, there was only a specific period in the year we got participants, but we wanted to engage in that through the whole year.
At that time, we came across STAY JAPAN and thought about taking in general people and get more in touch with travelers coming from big cities. After starting, there were barely guest and we were kind of sad. But after a while, the people came visiting us at last.
All of our guests were nice
──When did you start using STAY JAPAN?
Tadanobu: It's about 2 years. Right now, we just started our 3rd year.(Status: September 2015)
──What kind of people did visit you?
Tadanobu: There were around 40 guests, maybe 40–50. Especially since last year they became more. I guess after the report of TV Tokyo more people from the Kansai area or from abroad came. But, well, in the end, it is difficult to get here and this is what is holding the guests back. How was it for you to stay here with us?
── In contrast to staying at a hotel, you can participate in activities and that's why I think private lodging is better, right?
Tadanobu: Yeah, right? Making a connection between us and our guests is important right? But this is kind of hard to tell to someone else. We would like to welcome more guests. In the end, the feedback from visitors were always good.
Get a rest, have a nice vacation and go home
──Is there anything you want to acomplish by running a private lodge?
Ryoko: We try as best as we can to get a good response and always think of what to do to make our guests happy. We want them to get a rest, have a nice time an go home again. Also, we try our best to make them feel comfortable and feel more like our grandchildren or grown up children. When we stop doing that, the whole concept gets awkward. So we keep it family-like.
Tadanobu: But in the end, we get all the stress! (Laugh) We have to think hard about where it is best to take our guests to make them have a good time, you know? Ryoko: Haha, of course. But anyways, we want them to feel different then normal customers.
Thanks to private lodging, we could meet people from abroad
── You said there also have been guests from abroad, right? How was that? Were you nervous?
Ryoko: Not at all! We were kind of relaxed about that. We tought: "we should get along, even if we have to use gestures". (laughes) I mean, if it gets necessary in reality. We got something like a guide to how to handle this, but we kind of managed to communicate without it.
Because of that I always tried to serve our guests something like Japanese fresh fish that they could not have in their home country. And the next day, they tried to cook for me their national meals. I am glad that by running a private lodge, we could meet people from foreign countries. That's something which is normally can't be done in a place like this.

── From where did those guests come?
Ryoko: That time, from Thailand, Indonesia and the Philipines. I totally liked the food our guests made and ate everything. Only for grandpa here the food was too spicy to eat (laughs)
I feel like I've made so many friends in far places
── While running the private lodge, were there any troubles or problems?
Ryoko: Oh right, once, we had a family group that came from Sendai in the O-bon season. They were 3 families with 10 people with children that were from 0–10 years old. Normally, we use the same bedroom to sleep, but we thought that the parents would be extra careful with their kids so we wanted to give them some free space and gave them the whole room. We went to sleep in one other.
Making a carefree atmosphere for parents in a house like ours was kind of difficult.
──While running the private lodge, was there any occasion you thought it was good you were running it?
Ryoko: I guess the point where I can say that trough this lodge we could meet a lot of people that live far away and make new connections.
For example, when we get fresh fish in I sometimes send it to guests we got to know through our private lodge. By doing that, I feel like I've made so many friends in far places. Recently, I've also sent some fish to a friends in Saitama I made thorugh our lodging service because I want them to enjoy our fish.
Normally, we only can meet local people, so meeting our guests and sending them fresh seafood makes us very happy. Like, we already are thinking about what to serve our next time! By doing that, we also received packages back from former guests with vegetables from the region they are living at.
And this kind of exchange is something very special, I think. After now, I'd also like to try getting in touch with other people running private lodges at STAY JAPAN.
Written by

Igarashi

Student